Discover the most important nutrient on the planet:
MOLECULAR HYDROGEN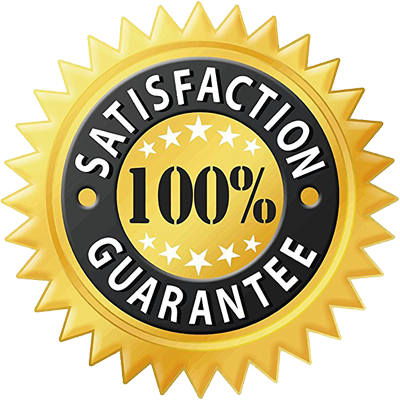 Hundreds Of Scientific Publications And Human Studies Have Shown Molecular Hydrogen To Be Of The Highest Importance In Hundreds Of Cellular Processes, Especially The Most Important,
THE PRODUCTION OF ATP.

The smallest molecule in nature is also the most powerful antioxidant there is.
Over 100,000 Users, Scientists and Doctors Worldwide Know the Truth About Molecular Hydrogen
Better Sex!
"Gives me a nice uplifting feeling and what I love most is its a super aphrodisiac. My hubby couldn't be happier! I recommend twice daily."
- Lulu on March 15, 2019
HydroActive is Rocket Fuel!
"This product feeds my body! It's safe, easy, and the simplest most powerful building block of life. HydroActive is rocket fuel!"
- Nick on October 3, 2018
Energy Water - It's Awesome!
"I make a Hydrogen energy water drink everyday and have gotten my sister hooked on it to...gives you a boost without the jitters."
- Kelsey on January 8, 2019
Love this Product
Love this product...so easy to take. Learning more and more about the benefits of Hydrogen....amazing supplement for my brain far better than coffee.
- Linda on July 15, 2018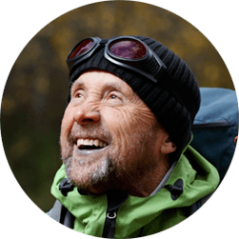 Energy Rush!
"When I drank the water with HydroActive tablets I would an adrenaline rush like when you get oxygen at surgery. It is an unusual and awesome feeling. Hydrogen works!"
- Ben on February 14, 2019
Great for Weight Loss
"My husband dropped 16 lbs. over the summer with these. Still uses the product to maintain weight. Just drink water throughout the day and the tablet does its work."
- Angela on January 16, 2019
The Biggest Discovery For Performance Enhancement and Disease Treatment In The 21st Century.
HydroActive™ Molecular hydrogen H2 H2O is safe, non-toxic and has no negative side effects. Its simplicity makes it the most revolutionary discovery for the our health.
Many studies also point to its superior ability to support healthy inflammatory response.
8 Mg of Molecular Hydrogen For Less than $2 Per Day!

It Is Scientifically Proven To Be The Most Powerful Antioxidant In Nature.
It's True!
Molecular Hydrogen is the master antioxidant that specifically targets the hydroxyl free radical and instantly converts it to water. Too many hydroxyl free radicals in our bodies causes oxidative stress and contributes to the symptoms of aging and dis-ease.
The proper management of free radicals allows every cell to function at its most optimal and this translates as in increase in athletic performance, strong metabolism, endurance and well being.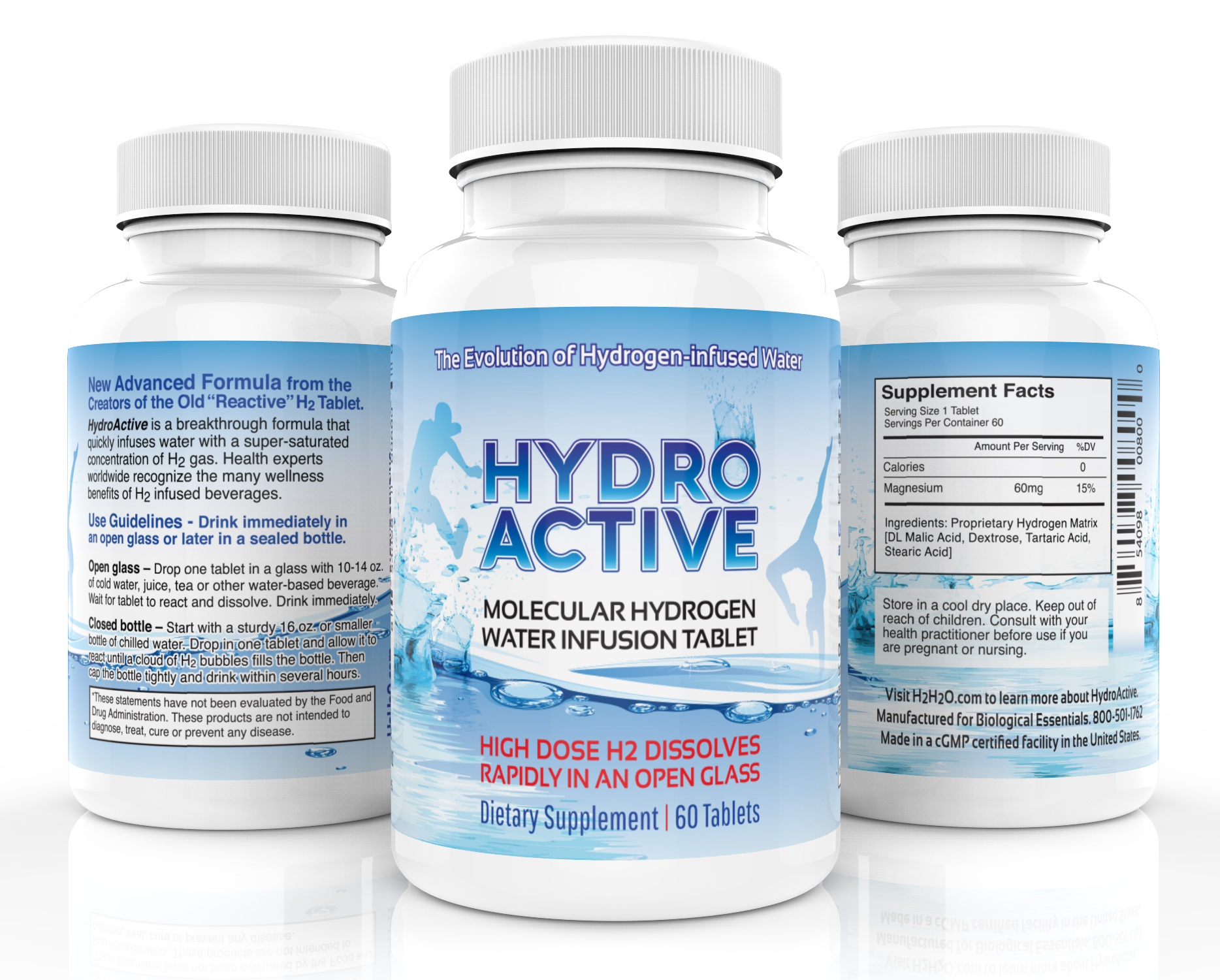 Every Doctor Will Tell You:
Hydrogen is Utilized By Every Cell Of Our Bodies To Make Energy.
Being Half the Size Of Oxygen, Molecular Hydrogen Is The Smallest Molecule In The Universe.
Your body literally runs on electricity.
Electrons in food give you the fuel for every physical process.
Increased Hydrogen electrons increases your charge significantly.
Its no wonder Hydrogen is what fuels rocket ships to break gravity!
That same power is deep within your cells burning to create energy + water.
Hydrogen is produced at great expense in our bodies. Now there's an easy way.
This medical scientific breakthrough is the evolution of natural medicine!
HydroActive™ Molecular Hydrogen Tablets instantly dissolve upto 5 PPM (parts-per-million) which 400 trillion molecules of H2 in an open or container of water or other beverage.
"I discovered that molecular hydrogen significantly reduces oxidative stress and maintains very high levels of powerful antioxidants like glutathione superoxide dismutase and catalase. Not only that, but it also contains a host of anti-inflammatory, anti-obesity, and anti-allergy benefits. For this reason I have now decided to make consumption hydrogen-rich water an important part of my daily nutritional routine…and I highly recommend it!"
Ben Greenfield - Voted America's #1 Personal Trainer
Being Half the Size Of Oxygen, Molecular Hydrogen Is The Smallest Molecule In The Universe.
"Molecular Hydrogen is Pure Fuel for the Mitochondria, the Powerhouse of the Cell"
~A Scientific and Medical Fact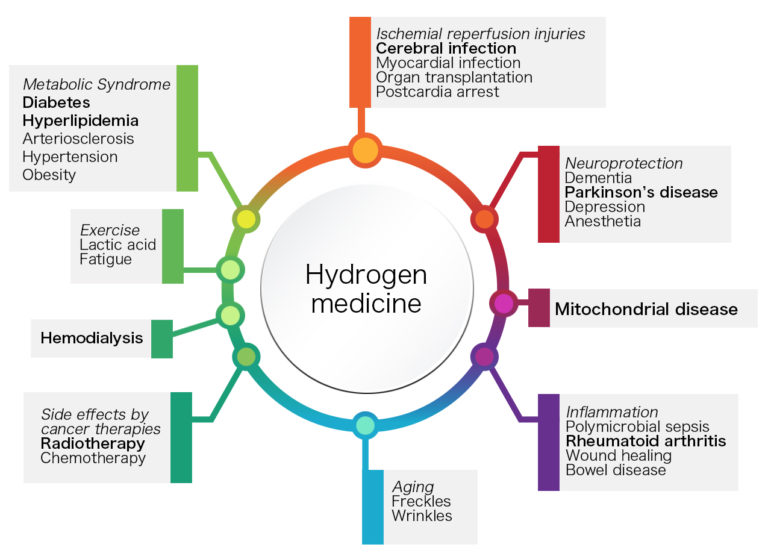 Take These 3 Steps Right Now!
Buy Your Bottle. Drink a Hydrogen Water in the Morning and One in Evening.
Order. The most important cellular energy supplement you will ever take is here.
Experience. The benefits of this Mitochondrial elixir are second to none.
Give Yourself Something Extra. One month to a sharper edge.
In 6 Months
Supercharge Your Cells For Life
This is the power of HydroActive™ Molecular Hydrogen concentrate.
In 90 Days Be Prepared
To Feel Incredible All the Time!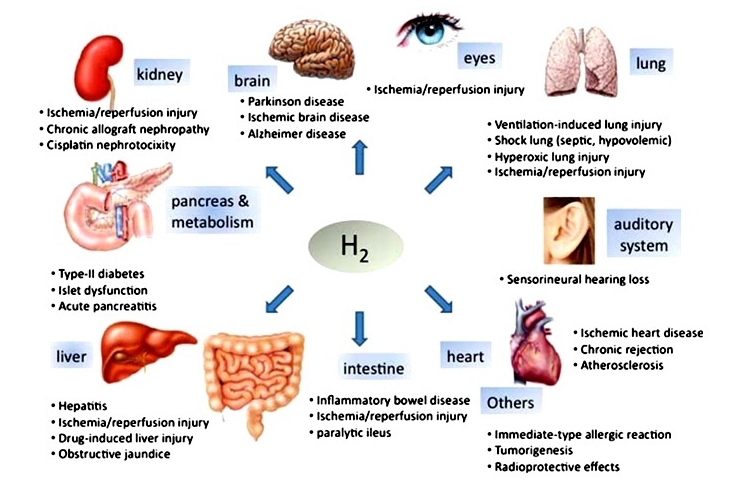 Our "It Works or It's FREE" Money-Back Guarantee
To make you feel good about your purchase today, I want to make it clear that it comes with our exclusive 30 Day "It Works or Its FREE Money-Back" Guarantee.
A Risk-Free Opportunity For Radically Boosting Wellness.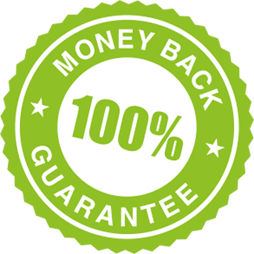 Q: What is Molecular Hydrogen?
A: Hydrogen, the first element is the power source of life and the mother of water itself. Two atoms of hydrogen combine to form hydrogen gas, H2, the smallest and most bioavailable molecule in the universe. H2 goes where nothing else can, diffusing massive amounts of molecular hydrogen deep into your cells and mitochondria.
Q: Why can't we get H2 from H2O?
A: H2O has bound hydrogen whereas H2 gas is available molecular hydrogen ready to go to work inside your body.
Q: What Does Molecular Hydrogen Do For You?
A: Billions of tiny nano hydrogen bubbles result in hydrogen rich water infused with the most extraordinary antioxidant under the sun. 200+ scientific articles published in reputable scientific and medical journals indicate that molecular hydrogen is a must have supplement for our optimal health and wellness. - H₂ protects DNA, RNA and proteins by converting the most harmful free radicals to water. - H₂ activates an increase in the body's own antioxidants such as glutathione and SOD. - H₂ has beneficial impact on cell signaling, cell metabolism, and gene expression.
Molecular Hydrogen for Athletic Performance:
H2 penetrates into the innermost reaches of cellular tissue promoting energy and mitochondrial production of ATP. Molecular Hydrogen promotes rapid recovery, decreased lactic acid production and increased endurance.
Q: Why should I drink all of the prepared H2 H2O as soon as I open the bottle it is prepared in?
A: H2 will escape into any air space inside or outside your bottle. By drinking the hydrogen-rich water immediately upon dissolving, you get the benefits of the H2 inside your body instead of letting it escape into the atmosphere.
Q: How many HydroActive™ H2 H2O tabs should I use daily?
A: Limited evidence exists to suggest the best dosing protocols of molecular hydrogen, however experience indicates a minimum of 1-2 tablets HydroActive™ H2 tabs per day. Very active people may use up to 6 tabs per day. Many find greatest effect by consuming 3-4 bottles of hydrogen-rich water per day for a few weeks, and either reduce tor increase after.
Q: Are there any contraindications from ingesting HydroActive™ H2 H2O?
A: There is no risk of toxicity from the magnesium being ingested. Hydrogen gas does not cause toxicity at levels significantly higher than what the tablet produces. Hydrogen doesn't build up in the body. Any excess is simply exhaled.
Q: Can you overdose on HydroActive™ H2 H2O?
A: No. In fact some studies indicate more is actually better. Any excess hydrogen simply escapes as a gas.
Q: Can I get the same benefit from food grade hydrogen peroxide?
A: Food grade hydrogen peroxide [H2O2] has no similarity to dissolved molecular hydrogen [H2]. Hydrogen peroxide is a strong oxidizer and is used as a bleaching agent and disinfectant. Molecular hydrogen [H2] is a reducing agent/anti-oxidant.
Q: Does HydroActive™ H2 H2O have external uses?
A: Agricultural chemicals can be rapidly removed from food by soaking in H2 rich water. Foods cook faster with H2 water because of the penetrating power of H2. Benefits can be derived from bathing with H2 water.
Q: Are HydroActive™ H2 Tablets explosive or combustible?
A: No. Just don't get water inside your bottle of H2 tablets. It will heat up.
Q: Why are HydroActive™ H2 tabs a more effective way to produce hydrogen-rich drinking water than alkaline ionized water, hydrogen sticks, or other water soluble or ingestible tablets?
A: HydroActive™ tabs are capable of producing enough H2 to saturate half a liter of water with 5 PPM(parts per million)* of Molecular Hydrogen. This far exceeds what any other method can achieve. Ionizers and hydrogen sticks typically produce between 0.1-0.5 PPM of H2, plus the results they deliver drop off sharply with use. Ingestible H2 capsules give off a constant H2 level, which has been shown to be ineffective compared to hydrogen gas dissolved in water. *Maximum concentrations under ideal creation methods.
Q: Will H2 make my water taste different?
A: It will taste smooth and light and slightly different the first time you try it. 1 Bottle = 60 Tabs (1-2 month supply) Recommended Dose: 2-3 tablets per day.
Tablet Ingredients:
Proprietary Hydrogen Matrix [DL Malic Acid, Dextrose, Tartaric Acid, Stearic Acid]
HydroActive™ H2 Tabs – Instructions for Use:
Use one tablet per (335-600ml/11-20 oz glass or bottle). Fill the bottle to the brim with clean, water or other beverage. Colder produces best effect. Wait until tablet dissolves, then drink. Drink H2 infused water all at once.
Storage & Precautions:
Store in a cool, dry place. Do not swallow tablet. Keep out of children's reach. Avoid direct contact of tablet or tablet residue with eyes (flush with water if necessary). Pregnant and nursing women should consult with their health practitioner before using.
reference
[1] Ohno, Ito, Ichihara, Ito. Molecular Hydrogen as an Emerging Therapeutic Medical Gas for Neurodegenerative and Other Diseases. Oxid Med Cell Longev. 2012; 2012: 353152 PMCID: PMC3377272
http://www.ncbi.nlm.nih.gov/pmc/articles/PMC3377272/
[2] Chuai Y, Qian L, Sun X, Cai J. Molecular hydrogen and radiation protection. Free Radic Res. 2012 Sep;46(9):1061-7. doi: 10.3109/10715762.2012.689429. Epub 2012 May 18.
http://www.ncbi.nlm.nih.gov/pubmed/22537465
[3] Dixon BJ, Tang J, Zhang JH. The evolution of molecular hydrogen: a noteworthy potential therapy with clinical significance. Med Gas Res. 2013 May 16;3(1):10. doi: 10.1186/2045-9912-3-10.
http://www.ncbi.nlm.nih.gov/pubmed/23680032
[4] Devi Gopinath, Gurupriya V. S, Aswathi P. B, Anu G. Molecular Hydrogen Therapy: A Major Milestone in Medicine. World Journal of Pharmacy and Pharmaceutical Sciences. Vol 3, Issue 8, 2014. 1201
www.wjpps.com
[5] Zhang JY1, Liu C, Zhou L, Qu K, Wang R, Tai MH, Lei Lei JC, Wu QF, Wang ZX. A review of hydrogen as a new medical therapy. Hepatogastroenterology. 2012 Jun;59(116):1026-32. doi: 10.5754/hge11883.
http://www.ncbi.nlm.nih.gov/pubmed/22328284
[6] Noda K1, Tanaka Y, Shigemura N, Kawamura T, Wang Y, Masutani K, Sun X, Toyoda Y, Bermudez CA, Nakao A. Hydrogen-supplemented drinking water protects cardiac allografts from inflammation-associated deterioration. Transpl Int. 2012 Dec;25(12):1213-22. doi: 10.1111/j.1432-2277.2012.01542.x. Epub 2012 Aug 14.
http://www.ncbi.nlm.nih.gov/pubmed/22891787